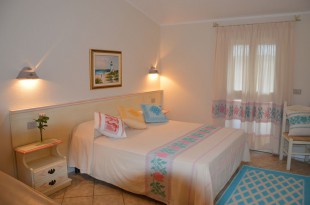 Hotel la Palma is located on Via del Tirreno, in San Teodoro, on Sardinia, just 300 metres from the wonderful La Cinta beach and a mere 15 km from the city of Olbia.

The large, light-filled hotel complex benefits from being located on a site that ensures guests enjoy exceptional peace and quiet, even though it is only a few minutes' walk from the beating heart of San Teodoro, where there is plenty of fun to be had.

At this family-run hotel, where the ever-ready staff are the soul of discretion, you will have the opportunity to savour traditional Sardinian hospitality, and you are sure to feel very much at home.

The generously proportioned rooms will allow you to discover the authentic atmosphere of Sardinia, evoked by even the smallest details, which together constitute a celebration of the traditions and colours of this wonderful island. All of the rooms are en suite, with a large private bathroom, and also feature a panoramic balcony where you can linger throughout the evening and on into the night, enjoying the remarkable tranquillity of this corner of paradise.